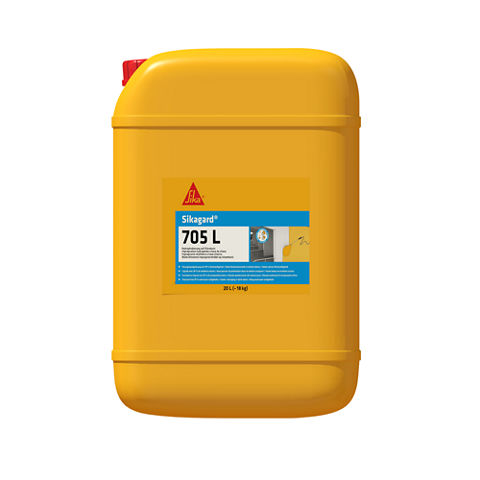 Liquid passive corrosion inhibitor/hydrophobic impregnation for reinforced concrete 
Sikagard®-705 L is a one-component, low viscosity, solvent free, reactive passive corrosion inhibitor for concrete and cementitious substrates based on silane with 99 % active ingredient. Sikagard®-705 L complies with the highest requirements of EN 1504-2 for Hydrophobic Impregnation (penetration depth class II & resistance to freeze and thaw salt stresses).
Fast uptake even on dense concrete.
Easy to use.
Transparent.
Excellent and deep penetration.
Reduces corrosion even in cracked concrete.
Mitigates corrosion rate of depassivated reinforcement bars.
Prevents chloride migration to reinforcement bars.
Effective against AAR.
Can be used on new and corroding, and old, structures.
Open to water vapour diffusion.
Increases electrical resistivity in concrete.
Increases the resistance of concrete to freeze and thaw cycles. 
Resistant to sea water.
Low VOC content.
Complies with Dutch guidelines (RWS NEN-EN 1504-2) on CEM III.
Reduces capillary water absorption, protects against mist and splashing on vertical areas.
Reduction of absorption of aggressive or deleterious agents dissolved in water (i.e. de-icing salts or chloride from marine environment).
Ready to use.
Long term durability.
Reduced green growth.