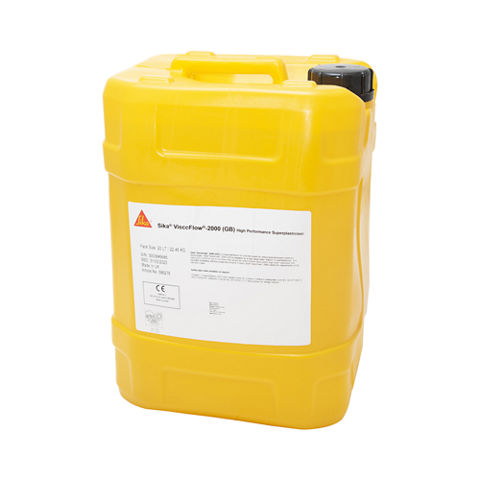 High range water reducing/superplasticising concrete
admixture with enhanced workability retention
Sika ViscoFlow®-2000 is a liquid admixture for concrete based on unique polycarboxylate polymers technologies. Sika ViscoFlow®-2000 is designed as a high range water reducer or superplasticiser. It is particularly suited for use in concretes that require low water/cement ratios and / or high water reductions with excellent workability retention properties of up to 3 hours. Sika ViscoFlow®-2000 meets the requirements of BS EN 934-2 table.
High range water reductions resulting in higher strengths and densities
Extended consistence retention
Improved cohesion properties
Improved early and ultimate strengths
Excellent placement characteristics
Improved rheology
Improved durability
Reduced segregation and bleeding
Reduced drying shrinkage
Reduced mix costs