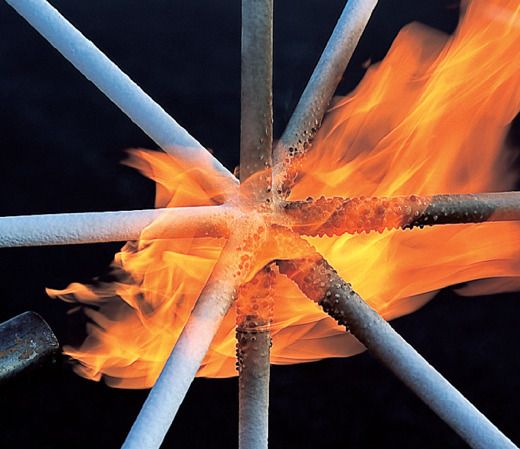 While traditional solvent and water based 1-pack fire protection systems have long been widespread on the fire protection market, in 2010 our research department managed to establish Sika® Unitherm® Platinum, completely novel intumescent technology, in our fire protection portfolio, thus setting the course for the future.
A further coating system has emerged from years of national and international experience and coating of hundreds of thousands of square meters in the form of Sika® Unitherm® Platinum-120, which completes the range of services for passive two-component steel fire protection and thus covers fire resistance classes R30 to R120.
The Platinum technology offers fire and corrosion protection together, can be transported and installed after 24 hours, and also exhibits high mechanical and chemical resistance. Thanks to these excellent properties, steel can be coated directly in the factory and brought to the desired destination without transport damage, which allows even very large construction projects to be completed in very short time. Furthermore, as a halogen-free, alkyl-free, benzyl-alcohol-free intumescent, the further developed Sika® Unitherm® Platinum-120 meets the requirements and recommendations of numerous certification systems such as DGNB, LEED, and BREEAM and is thus a sustainable quality product.
Advantages of Sika® Unitherm® Platinum System
Single coat application fire protection system
Fast application and curing times
Suitable for factory application due to tolerance to normal transportation methods without the requirement for protection against moisture
High mechanical strength, shock, impact and abrasion resistant
No shipping damage and no damage during the service life of the structure
100% solids, wet film thickness = dry film thickness
Layer thickness up to 4 mm per operation possible
Application under defined climatic conditions in the factory
Application with and without primer
Independent fire testing according to EN 13381-8 (BS 476)
Classified according ETAG 018-2:2006 Type X
Applied without top coat for indoor and outdoor use
Fire behaviour: Classification B-s2, dO (EN 13501-1)
Excellent corrosion protection properties in high humidity and aggressive
environment according to SN EN ISO 12944-5 up to C5-I and C5-M
Fire and corrosion protection properties not effected by water in service
Cleaning of the coating surface with high-pressure water possible
Our Range of Fire Coatings
Sika's Expert Fire Protection Knowhow